1. McAllen Texas is a great Place to Raise a Family
Founded in 1905 and was named after John McAllen, a Scottish settler whose ranch the town was on. The city has long had a large population of Mexican descent; Segregation and transformation from a livestock economy (dominated by Mexico) to an agricultural economy (dominated by white settlers) created tensions in the city. McAllen, a major winter resort town, is an oil and gas exploration center. Citrus fruits, vegetables, and cotton and is one of the major ports of entry for trade with Mexico.
McAllen TX is a bustling metropolis and a major hub for retail, international trade, tourism, and manufacturing despite its reputation as a simple frontier town. High quality of life, extensive medical facilities, and young multicultural communities are additional attractions.
McAllen has a warm and sympathetic population. Every year, thousands of winter Texans flock to the Rio Grande Valley, where McAllen pumps millions of dollars into the local economy in mild autumn and winter.
The Metropolitan Area is also a haven for people crossing the border from Mexico to Texas, and many Mexican citizens come to shop and enjoy McAllen during the day. McAllen, helping people who want a new life in The United States. As a result, the region has a strong and popular Spanish culture.
McAllen TX is rated amongst the best places to live in US News.
RANKINGS
139 Best Places to live
65 Best Places to retire
9 Best places to live in Texas
7 golf courses Nearby for outdoor fun!
McAllen is a city in south Texas that hosts seven golf courses nearby. These courses are perfect for the outdoors lover, and they provide different golfing experiences with their various layouts. McAllen golfers can enjoy the beauty of nature and all it has to offer. In case the outdoors don't do the job for you there's a fairly new Top Golf in the neighboring city of Pharr.
2. There are lots of opportunities for employment in McAllen Texas
McAllen Texas is a growing city. With the growing demand for jobs, it is difficult for everyone to find a job. If you are looking to work at McAllen TX, there are many different options available to you.
In McAllen, Texas, there are many opportunities for a fulfilling life as an employee. Successful employers hire employees with good skills and passionate personalities because they are the people who will benefit your company.
Education and health services form two of the largest employment areas in McAllen, thanks to major employers such as the McAllen School District, South Texas College, Texas Rio Grande Valley University, Texas Southern Health System, and Rio Grande Regional Hospital. in the public sector, including the city of McAllen and Hidalgo County. Other major regional employers include GE Aviation and HEB stores.
3. We have a great quality of life in McAllen Tx.
McAllen Tx encompasses an extraordinary quality of life. They live in a secure, fun, and satisfying community where the children are upbeat, sound, and well-educated. McAllen Tx is an example of what a great society can look like with the correct set of values.
McAllen Tx has what we like to call great quality of life we merit. The individuals of McAllen Tx regularly live together and work in near proximation, as well as appreciate each other's company both socially and professionally.
4. McAllen Tx Real Estate is Still Very Affordable
McAllen is one of the most affordable metropolitan areas in the nation and Texas. In general, residents spend less than the national median selling price on home purchases and less than the national average on other costs of living. a lower value than other metropolitan areas of similar size when comparing median household income to housing costs.
RE/MAX PLATINUM is a local company that offers a wide variety of homes for sale. Luciano, a real estate agent, provides excellent service to his clients. RE/MAX is a national company that offers affordable and beautiful homes for sale in McAllen TX.
Click Here to Look at McAllen Homes For Sale
5. Things to do in McAllen TX:
If you are looking for some things to do in McAllen, Tx look no further. We have compiled a list of activities and events to take part in all year round in the city. Families together outdoors with others to let the art and culture of McAllen really shine through, there is a little bit of everything to enjoy.
Family Fun
Fantasyland Skate Center
Grab your skates, do your hair due, and enjoy hours of fun at the Skate Center. It happens to be the only skating rink in the Rio Grande Valley. AdMcAllens aren't too bad. The park is open Tuesday through Thursday 2 pm-8 pm, Fridays from 4:30 pm-11 pm, Saturdays 2 pm-11 pm, and Sunday's 2 pm-7 pm.
Trampoline Parks
There are a few trampoline parks in McAllen Tx. They have grown in popularity and offer tons of fun for the family. Sky Park Trampoline has nearly 40K sqft of games and activities. There is also Helium Trampoline park.
Kicking Axes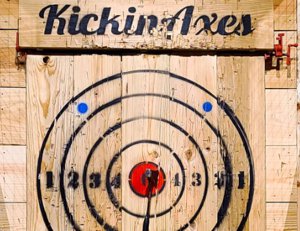 Feeling like Jason Momoa's Aqua Man? Kicking Axes is the place to get your axing on. Throw a few axes unto a target and practice your axing skills. Kicking Axes is veteran-owned and brings tons of excitement, I mean, c'mon, where else can you throw an ax? Must be 13 or older and must be accompanied by an adult.
Parks And Outdoors

McAllen TX features a plethora of parks and centers. To name a Few parks, there's: Quinta Mazatlán, McAllen Nature Center, Firemen's Park, Pools, Hiking and Biking Trails
Quinta Mazatlan is a natural oasis, Visitors come from all over the world to enjoy nature and a walk down one of its trails to see a variety of birds that live and migrate from all over the world. The Firemen's Park offers boat and fishing pole rentals, and of course refreshments for sale. Bring the family and do some kayaking. Amongst these outdoorsy mentions, there are some hiking and biking trails.
Arts and Culture
To name a few: McAllen Performing Arts Center, Arts District, Fine, and Performing Arts, Artwalk, McAllen Farmer's Market
McAllen also Features the McAllen Heritage Center, International Museum of Arts & Science, and the Veterans War Memorial of Texas at the McAllen Convention Center.
6. Weather in McAllen TX is the best!
The weather in McAllen TX is Great from October through June. The summer months are known for their scorching temperatures and humid conditions, which can be uncomfortable at times. The hot season lasts three and a half months, with an average daily high of 92 degrees Fahrenheit from late May to mid-September. The hottest day of the year is usually around August 4th, with an average high of 98 degrees Fahrenheit and a low of 78 degrees.
Thanks to the weather, there are two cool and three hot periods! The coldest day of the year occurs on January 5th with an average low of 52 ° F. What follows is a period before March that has temperatures almost constant in the 64-76 ° F range.
All in all, the weather is great if you are not a fan of the cold weather and like a little heat in your life.

Bottom Line
McAllen Texas is a prominent city that has so much to offer. It's the perfect location, it's a day trip to the beach, moments to the Rio Grande, and it's home to many wonderful communities. Let me show you some of the homes for sale in McAllen Texas today!